I'm back to Tuesday Travels! I missed joining last week because my very hectic schedule didn't let me post my beach photos. For this month though, I'll try not to miss a single week because it's freestyle. Meaning, there is no particular theme to follow but any travel photos that I have. Good enough since I still have a bunch of unshared shots so I'll start with our hop at the Ethel M. Chocolates Factory in Las Vegas, Nevada last December!

Photo #1– There's us three sporting each of our pose at the entrance of the Cactus Garden and Chocolate Factory
The place is actually a perfect combination of a Cactus Botanical Garden and the Chocolate Factory so your hour or more of touring is always worth it!
Photo @2– Moi and Mister Red M! 🙂
Photo @3– My companions seen at the mirror as they tried to take a snap of me by the Factory entrance
Photo #4– And at the very lobby, this is what will meet and greet you: A giant E.T.H.E.L.S. made of chocolate! Yum yum!!!
Photo #5– One of the interior wall. It has a lot of information worth reading and knowing. This one's a part of the the Factory history.
Photo #6– The very generous chocolate giver to anyone who wants a free taste! We sure did! Lol.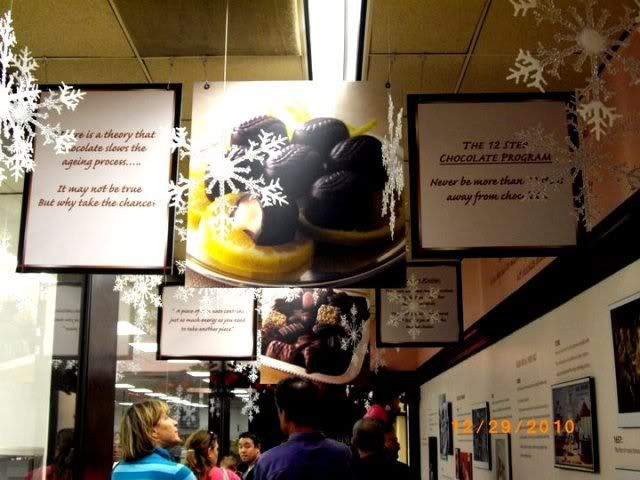 Photo #7– Told you, we lined up to take our free sample of the sweets! 🙂
Photo #8– The factory worker. It was a holiday when we went there so there weren't too many chocolate-makers. We learned though that there was a Filipino who works there, but he was off that day so we missed seeing him. We kidded that we would have gotten lots of free chocs had he been there! Lol.
Photo #9– Man cannot live by chocolate alone; But woman can! Women– true or not? Lol.
Photo #10– I really asked the husband and the daughter to stand here because I wanna capture them with the Cacao on the wall and the information that tells what chocolates are made of and how Ethem M. Choco Factory transform the Cacao into irresistible chocolates. It was a delight to learn that the chocolates here in this factory are solely made of Cacao. I've never thought that one of the fruits I so love back home is the main ingredient of everybody's fave: chocolates. Isn't that so fascinating? 
I really wish I can share some more photos but space is limited so I hope my highlights did give you a bit of idea how interesting it is to check this place when in Las Vegas, Nevada! Until next travel!
Shared for: