Didn't I tell you that I love, love, love the sun, the clouds, and the sky as subjects for my photography? I do. It is one of the reasons why I only go for a point-and-shoot camera because I need to have one to take out right at the very moment when the sky seems to be begging for my camera's attention. Lol. It is one of the reasons, too, that when we travel to far distance places, the husband doesn't let me drive because he knows that the sky and everything around me while on the road can be mighty subjects for my shutterholic eyes and hands. And heart.
Well, last Friday, when we went to Appleton to drive Ma and Pa to the airport for their Las Vegas flight, the sky gave me beautiful chances to use my camera. When we left, it was already dark as the weather forecast was cloudy and rain. Ma-in-law was even scared that it would be the same weather in Appleton as she worried that their flight may not be in the best condition. However, we prayed for a good time and weather and I trusted God that moment to give Ma and Pa the traveling mercies so I was confident that things will be good.
We traversed the east of Hi-way 10 to Appleton for some 70 miles of driving and it was comforting to see the sky clearing as we left Stevens Point and neared Appleton. Indeed, the sky was so clear and bright and the sun was up to give Ma and Pa the best weather condition as they'll take off.
Along Hi-way 10 east nearing Appleton, the sky started to clear up!
After sending Ma and Pa to their boarding gate, it was already 6:30pm (their flight was 7pm) and we had to leave the airport to drive home as we thought that it will be a stormy driving for us. Well, we were surprised with beautiful glimpses of the western sky when we hit Hi-way 10 again going home! The road was already wet telling us that it did rain hard and the clouds seemed to vanish as we headed west.
It was a perfect time to pull out my point-and-shoot digicam again and aim the lens at the western sky!
Photo #1 of the sky: The west looked so clear and bright for us!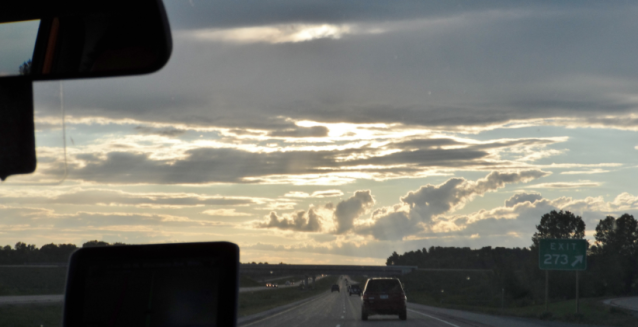 Photo #2 of the sky: We were under a still dark and cloudy sky but our destination showed us hope of a brighter evening!
Photo #3 of the sky: The sun struggling to shine through amidst the dark thick clouds. Just divine!
And photo #4 of the sky: A Rainbow when we almost reached our destination. Indeed, it rained and stormed really hard when we weren't around. All that we got are plain beauty of the sun setting down and the rainbow telling us that everything will be fine and beautiful.
We were sad to have Ma and Pa left us that day and the storm made all of us worried. But God answers prayers, and Triz's prayer to give Lolo and Lola a safe flight and made them reach Las Vegas without harm and danger was heard. At 11pm (after over 4 hours), we got a call from SIL that she just hugged Ma and Pa welcome to Las Vegas again.
My 204th of the 253/366 BPC
5 Responses to "The Afterstorm Sky Along Hi-way 10"
Leave a Reply