Hello everyone, especially TT joiners! This is a brand new episode of Tuesday Travels and I apologize for my irregular posting. I hope that even if we're not regularly doing this, you'll still keep joining. Thank you for being so understanding!
[When you join, please  link back to http://www.3travelholics.com when you join! Thank you!]
My entry is a very recent adventure that we have done. The nicest of it all is that we have had an upgrade. In all those travels we did in the past, there were just the three of us, but now, with Little Tiara's presence in our lives, the used-to-be 3 travel junkies are now four! So in our future trips, there will be four of us enjoying the scenes. I think I should be upgrading this blog URL as well into 4travelholics, as 3travelholics becomes a history. What do you think?
Anyway, let me go ahead and share with you our experience checking out The Sixth Floor Museum at the Dealey Plaza also famously known as the John F. Kennedy Museum in Dallas, Texas. It was an awesome choice of ours to check this place out while in Dallas because the life of President JFK was a fascination to us, especially for this 3rd travelholic who considers history as one of her favorite subject in school! We managed to make the most of an extra 2 hours that we had before leaving Dallas to drive back home. I have actually listed four places to check out while there, but to no avail. Time was so not that friendly to us.
But, our JFK Museum visit was worth it!
Triz has read a book about presidents of the USA and she knows who JFK is so she was so excited to experience a Kennedy museum.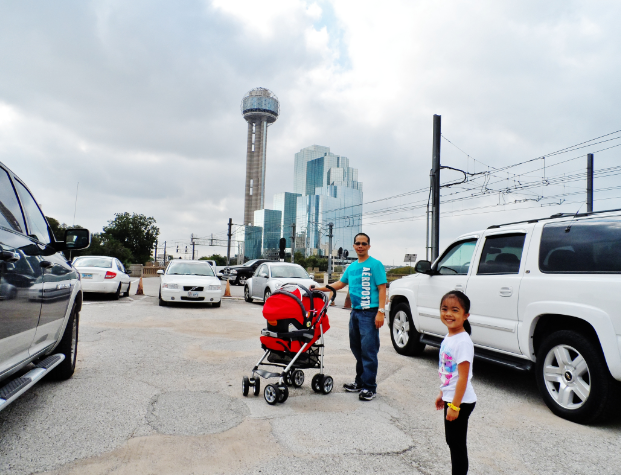 @ the JFK Museum public parking. It wasn't bad paying $5 for an over one hour of a safe parking.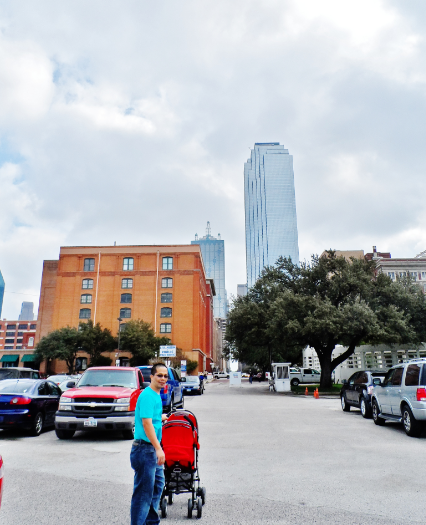 Approaching the museum building, that brown brick building called The Dallas County Administrative Building.
We all wondered at first why it is called The Sixth Floor museum  and we looked forward to having our question answered. Why do you think it is?
And  the excited historical museum buff!
@ The Sixth Floor Museum entrance. Too bad it was only at this spot where my camera gets to work. Yep, inside was a NO PHOTOGRAPHY ZONE. I always hate it when the place I go to prohibits everyone from taking pictures. I thought my camera on those moments is absolutely useless. Lol. Make no mistake though, I completely understand the reason why it is so. And yes, the law-abiding citizen in me do cooperate, no matter the temptation! He he he.
Our $45 worth of entrance tickets! Quite expensive for a NO PHOTOGRAPHY place but it was worth it!
Why worth it? Well, if you love to explore historical museums, this place in Dallas is a must see. The building is actually The Texas Book of Depository and on the 6th floor of was where the assassin of JFK positioned himself to sharp shot the President which led to his death. The museum on the 6th floor will make you examine the life, death and legacy of President John F. Kennedy through artifacts, photographs, documentary films, areas where evidence was found, eyewitness accounts and interactive educational programming and you have your own audio guide through the headphone which you yourself can operate so it was pretty cool. Even Triz, only 6-years-old had a blast with the museum tour.
This is the very building where the assassination bullet was fired and the shooter Lee Harvey Oswald was on the 6th floor, on that very window that I highlighted in the picture. It was pretty cool to actually step foot on inside and saw the very room where the shooter did it. It felt like history was at its richest because all the stuff were really preserved. The exhibits made everything feel real at that very moment you're there and the flashbacks seemed to be giving you the complete happenings during the Friday, November 22, 1963 when President JFK was assassinated.
The Sixth Floor Museum website actually has a lot of details to check out with photos, too, of the inside scoop.
The Dealey Plaza landmark; a must-see!
And yes, this 6-year-old history buff got to be there, on the very spot where JFK's convoy was parading and he was shot.
I thought we were in a very historical spot, really! That highway where we were where I marked an X was where JFK's limousine was located when the gun shot hit him.
Indeed, we were in Dallas, Texas on October 12, 2012! Lol. It was a really exciting and memorable museum tour as it was so rich in history!
We left Dallas with a few souvenirs from the Museum Souvenir Shop on the ground floor. Everything was expensive so I only buy the affordable ones. LOL.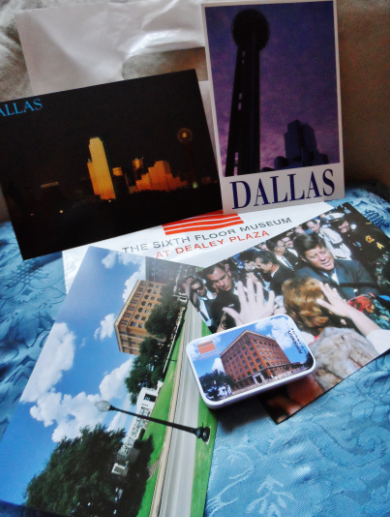 It was just a quick museum trip but we learned a lot and we were able to appreciate so many things that American heritage preserves. When in Dallas, the JFK Museum is really worth your time and money!
It's your turn to share your travel stories. Link them now!
Also shared as my 248th of the 297/366 BPC
9 Responses to "TT: 4 Travelholics at the JFK Museum in Dallas, Texas"
Leave a Reply