Our recent trip down to Milwaukee last month for our Biometrics has been successful. We weren't able to tour the city though because it wasn't our plan at all. Milwaukee is the biggest city in the state of Wisconsin. It has a lot of wonderful attractions worth checking out and we have been to most of them, pre-Tiara era. Now that we're already four, we will be checking out the same places again to cater out little one's desires. Not for now though, she is only 6 months old so she can't decide or pick a date yet. LOL.
When we drove home, this huge stadium north of Milwaukee is very visible. How could one not noticed it?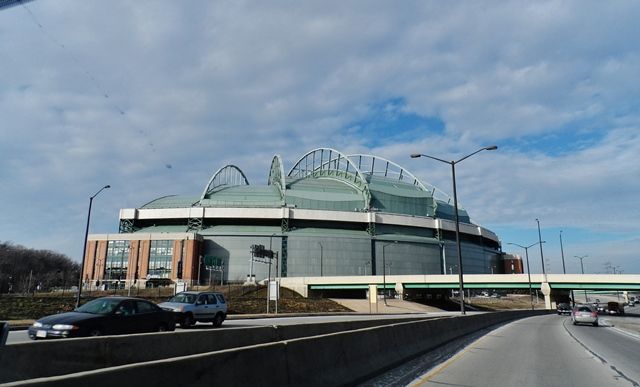 It is the Miller Park Stadium, home of the Milwaukee Brewers baseball team. None of us have been to this stadium but hopefully soon, we could. 
We were traveling on a very cold and chilly day but we're very thankful that our little companions are so cooperative. They never whined at all. Little Tiara slept most of the times, making us reached our destination an hour early. Hooray for a 6-month-old trooper !
Nearing our home city, we were blessed by a gorgeous sunset up in the wintry western sky.
When everything has become really tiring, it is a consolation to see a beautiful scene up in the sky. Until we stop complaining of being tired, we will never finish what we intend to do. In our Milwaukee trip, the extra beautiful sun and sky story was enough to make me smile.
How about you– do you like looking at the sky to find a good subject to take?